Soft Skills Series (SSS)
In coordination with the Offices of the Dean of Students, OCE launched the Soft Skills Series (SSS) in July 2017, on both campuses. The workshops are geared at helping LAU students further develop and sharpen their soft skills through interactive and informative forums.
To date, 30 workshops have benefited more than 1010 LAU students:
Alternative Communication Skills workshop
Stress Management
Strategic Planning
Interviewing Skills and Debate
Customer Service
Emotional Intelligence
Time Management workshop
Business Ethics in Media
Tolerance and Diversity Workshop
Communication Skills and Public Speaking
A step by Step Guide to Entrepreneurship
Stress: A Positive Force?
Emotionally Intelligent Leaders of tomorrow
Role of Media in Defense of Public and Private Liberties
Unleash your thinking power
Communication Skills: Speak so that they listen
Leading with Emotional Intelligence
Stop Killing time
The 7 Habits of highly effective people
Mental Candy
Mastering Self-Regulation
How to maximize time and minimize stress
Unleash Your Self-Confidence
Moubdeh Men biladi-Anghami
How to Maximize Time and Minimize stress
Unleash your Self Confidence
From Goal Setting to Goal Getting
Moubdeh Men Biladi-Mr. Rahbani
Introduction to Artificial Intelligence and its Impact on Sustainable Development
Moubdeh Men Biladi-Dr. Riad Obagi
Read more about SSS in the LAU Magazine & Alumni Bulletin.
Reliable Methodology for Right Majors (RM2)
Through a grant made possible by the US Embassy Embassy in Beirut – Public Diplomacy Department, the Reliable Methodology for Right Majors (RM2) guides public high school students to make informed decisions on their higher education and future careers.
Launched in 2019, RM2 draws a decision-making model to help students choose their majors, explore potential jobs, and plan for their career development.
Individual Development Plans (IDPs)
This program is geared for scholars of the University Scholarship Program.
Structured Workshops
Based on a survey that collects information on students' interests, needs and skills to be developed, the OCE tailors structured workshops to address those needs, in close coordination with the Career Development Services. Examples include, but are not limited to sessions with industry professionals, CV and cover letter writing, how to ace interviews and personal branding.
LEE-Leadership Empowerment Education
The program is established to address both, soft and digital skills needed by the youth nowadays. This intensive, focused and short-term learning program aims to equip students with a specific set of life skills that have immediate relevance to their career aspirations or academic goals. The program also seeks to build community-networking opportunities between participants and field experts (LAU Faculty) as well as with current LAU students.
Civic Engagement Course
Business 299: Civic Engagement Course
In Fall 2013 and in collaboration with the Adnan Kassar School of Business, OCE introduced a mandatory, zero-credit civic engagement course, Business 299, which became a core requirement of the BS in Business Studies program. Students may enroll in that course during any semester provided they have good academic standing.
The course is made up of two components:
A two-day workshop on civic engagement skill-building and need-assessment.
Community service experience: OCE matches students to an NGO so they can complete a minimum of 12 hours of documented community service experience. Their supervisors then submit an online evaluation form, to feed into their final evaluation by AKSOB.
In Fall 2019, 263 LAU students on both campuses volunteered with 21 NGOs from all over Lebanon.
Collaboration with Schools and Programs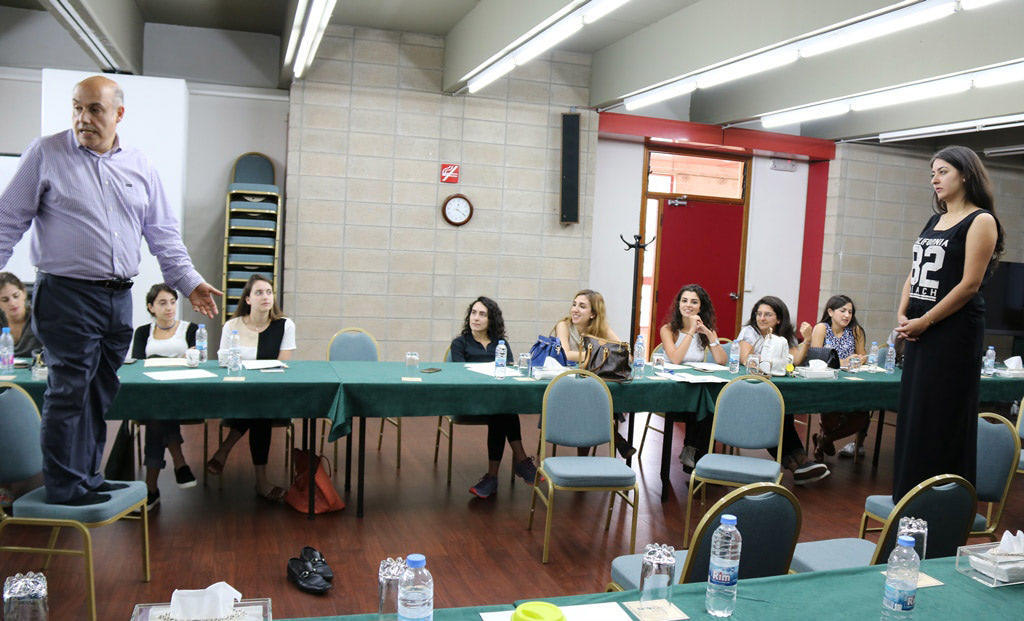 Collaboration with the Nutrition Program
OCE collaborated with the BS in Nutrition program to match its students with relevant NGOs. The student volunteers completed 12 hours of mandatory volunteer work by the end of the semester.
OCE also offered the "Power of Passion" workshop to nutrition majors, as well as the "Power of Service" workshop to the program's faculty and staff.
Collaboration with the School of Pharmacy
Since 2017, OCE has been collaborating with the School of Pharmacy to train its graduate students on emotional intelligence and conflict resolution.
The initiative prepared students for the four-month required Advanced Pharmacy Practice Experiences (APPE) in the United States, where the budding pharmacists boosted their academic learning in various patient-care settings and medical subspecialty environments.
In collaboration with the School of Pharmacy, OCE organizes the below workshops for P1 and P2 students:
"Know Thyself Part 1" workshop for P1 students (delivered by Mr. Elie Samia), with the following learning objectives:

Complete the Harvard Temperament sorter.
Know their personality type.
Know strengths and weaknesses of their personality type.
Know how their personality can work positively with other types.

"Leading with Awareness" workshop for P2 students, with the following learning objectives:

Know how to increase my influence in every situation (Self- Awareness).
Learn how to communicate better as a leader with others (Awareness of others).
Learn the importance of win-win situations.